Posting for TrueUSD
Abstract
This proposal aims to list TUSD (TrueUSD) token as a collateral asset on Radiant both BSC and Arbitrum networks.
Motivation
TUSD has been a stable collateral asset on many Top lending protocols with over 30M liquidity like AAVE, Compound, Justlend, Tectonic, Venus, and etc. We admire the innovativeness of Radiant mechanism and are hereby proposing to list TUSD on Radiant of both BSC and Arbitrum networks, and to be used as collateral.
There is approximately $20M TUSD circulating on the BSC and Arbitrum network, with this TVL, it is clear that there is still a lot of room for the growth and use cases of TUSD, the 5th largest stablecoin by market cap. Collaborating with quality protocols on these two chains is something TUSD is eager to do, and Radiant is our choice. If TUSD can be listed on Radiant as a collateral asset, this would bring in more liquidity to Radiant protocol.
Rationale
Benefits to RDNT users and liquidity providers
As the 5th largest stablecoin, adding TUSD as the collateral asset will diversify the collateral assets portfolio and attract more users who are interested in quality stablecoins on Radiant. Now Radiant has USDC, USDT and DAI being used as its stablecoin collateral asset. TUSD will give Radiant users another choice. As one of the most reliable, transparent and safe stablecoin, TUSD will surely help to lower the potential depegging and possible systemic risk for the Radiant community.
And if you check the data, TUSD is the No.5 stablecoin from market cap. The market cap is over 1 billion. After adding TUSD as a collateral asset, those TUSD holders will become potential users of Radiant, so it's a win-win strategy for TUSD holders and Radiant.
The extensive cooperation and connections built by TUSD will also lead to a positive overflow effect for the Radiant Community, creating more possibilities for both sides. For example, we are working with OKX to carry out the Web3 Invest activity, integrating TUSD pools on Radiant to allow users to invest in the DeFi pools through CEX, which is an interesting collaboration direction.
We are keen on a long-term, strategic relationship with Radiant, and adding TUSD on both BSC and Arbitrum networks with collateral enabled is a good first step towards this objective.
About TUSD
TUSD is the first digital asset with live on-chain attestations by independent third-party institutions and is backed 1:1 with the U.S. dollar (USD). So far, it has been listed on more than 100 trading platforms such as Binance and Huobi and is live on 12 mainstream public chains, including Ethereum, TRON, Avalanche, BSC, Fantom, and Polygon. TrueUSD is attested to in real-time by an independent, industry-specialized accounting firm in the U.S., to ensure the 1:1 ratio of its USD reserve to the circulating token supply and the 100% collateral rate. With the integration of Chainlink PoR, TrueUSD becomes the first USD-Backed stablecoin to secure minting and further ensure transparency and reliability. Users can access the relevant data via the official website tusd.io at any time.
TUSD is granted statutory status as authorized digital currency and medium of exchange in the Commonwealth of Dominica, a country in the Caribbean, effective on October 7th 2022. TUSD is also devoted to exploring more off-line payments and real world use cases with the collaboration of Travala, ChangeNOW and HyperPay etc.
Recent TUSD Features Update
Recent days, TrueUSD (TUSD) was using Chainlink's Proof of Reserves technology to secure minting and further ensure transparency and reliability. As the first stablecoin to programmatically control minting with real-time on-chain verification of off-chain reserves, TUSD is demonstrating a new paradigm of decentralization, transparency, and independent verification.
Risk Assessment
TUSD smart contracts have been audited by CertiK and SlowMist. TUSD is attested in real-time by Armanino, one of the largest U.S.-based accounting firms, to ensure the 1:1 ratio of its USD reserve to the circulating token supply at a 100% collateral rate. Users can access the publicly available audit report via the official website http://tusd.io at any time.
TUSD has kept a strong and steady peg against USD, the price deviated less than $0.003 USD since it launched in March of 2018 which can be tracked on CoinMarketCap.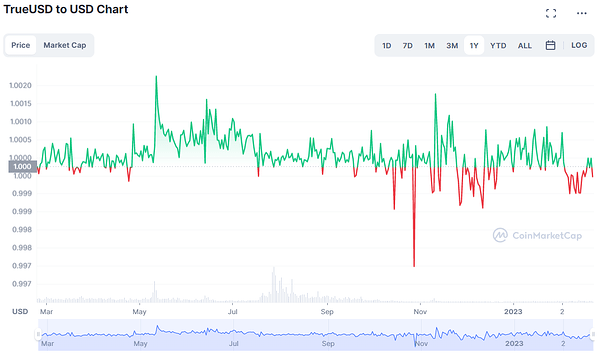 References/Useful links:
Website: https://tusd.io/
Whitepaper: https://tusd.io/pdf/TUSD_WhitePaper.pdf
Blog: https://trueusd.medium.com /
Twitter: https://twitter.com/tusdio
Telegram: Telegram: Contact @TUSDofficial_EN